Main content starts here, tab to start navigating
Sundays from 11am to 3:30pm, beginning December 11, 2022
Most tables will be held for walk-in's, but we have made a few available to book in advance via Resy.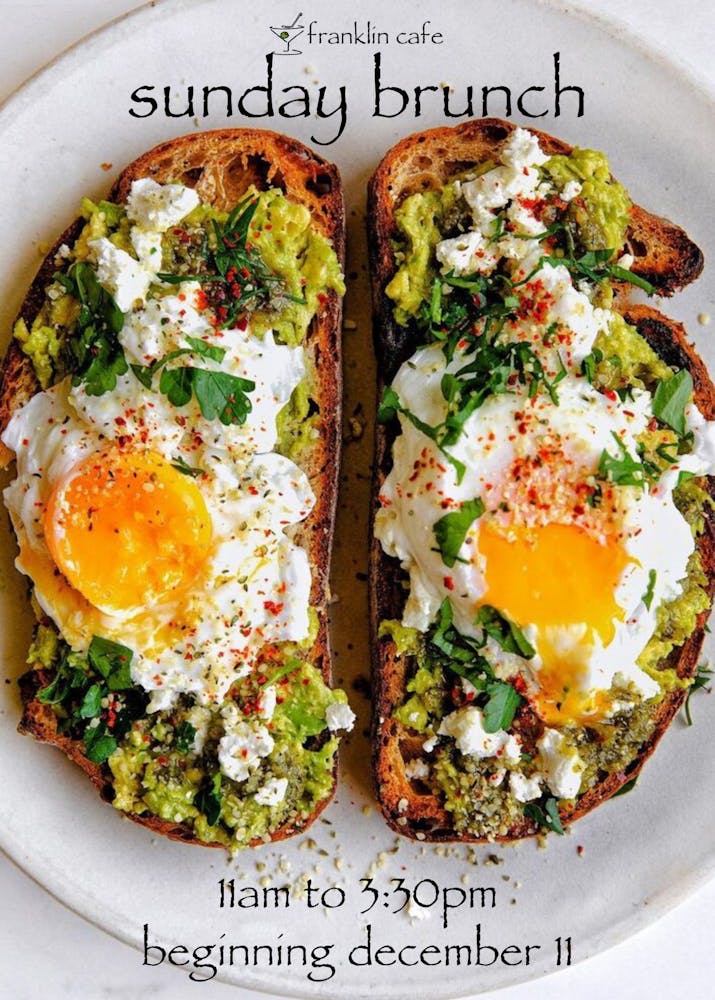 Dinner
STARTERS
Warm Ciabatta & Hummus

parsley, evoo

$5

Housemade Ricotta Crostini

honey, fresh thyme

$11

Farm Salad

mini artisan lettuces, watermelon radish, jicama, lemon citronette

$12

Grilled Calamari

garlic, white beans, basil pesto, citron blanc

$14

Smoky Skillet Roasted Mussels*

clarified butter, lemon, parsley

$15

Salt & Pepper Chicken Wings

pickled jalapeno, sesame seeds, sweet chili

$15
PASTA
Burrata Ravioli

evoo, brown garlic, heirloom tomato, opal basil, parmesan

$23

Slow Braised Lamb & Mint Risotto

tomato, carrot, aged ricotta

$25
MAINS
Classic Hanger Steak Frites*

port demi, roquefort butter

$32

Organic Chicken with 20 Cloves

roast sweet potato & garlic, sherry jus

$24

Sole Meuniere

oyster mushrooms, fresh parsley, fried capers, sorrel-lemon sauce

$23

Lavender-Honey Glazed Salmon*

baby green lentil du puy, red wine sauce

$26

Pork Shoulder Braciole

toasted pecans, currants, pecorino, parsley, orange zest

$24

Roasted Turkey Meatloaf

Turkish fig gravy, chive mashed potato

$22

Franklin Burger*

Grassfed beef, American cheese, slab bacon, brioche bun, lettuce, pickle, red onion. Served with French fries. Make it a double burger for +$3).

$16
SIDES
Hand Cut Fries

$6

Chive Mash Potato

$5

Lollipop Kale Sprouts

$9

*Denotes a raw or undercooked item. Consuming raw or undercooked meats, poultry, seafood, shellfish, or eggs may increase the risk of foodborne illness. Before placing an order, please inform server if a person in your party has a food allergy.
Cocktails
Martinis
Mo Cocktail

Ketel One Vodka, Chambord, Fresh Squeezed Lemon

$11

Ezpresso

Flor de Cana Rum, Espresso Liqueur, Amontillado Sherry, Cold Brew, Demerara

$12

Bobby Burns

Blended Scotch, Benedictine, Rosso Antico Vermouth, Angostura Bitters

$12
Cocktails
Ideal Manhattan

Makers Mark, Cinzano Sweet Vermouth, Grapefruit Bitters

$12

Kentucky Fig Mule

Evan Williams, Lemon, Fig Syrup, Ginger Beer

$12

Cucumber Collins

Rain Organic Cucumber Vodka, Lemon, Simple Syrup, Soda

$11

Vesper 75

Booth's Gin, Cocchi Americano, St. Germain, Cava

$12

Rosemary Paloma

Pueblo Viejo, Rosemary Simple, Lime, Grapefruit

$13

Select Mezcal Negroni

Banhez, Select Aperitivo, Rosso Antico Vermouth

$12

Another Shrubbery

Wheatly Vodka, Cranberry Shrub, Pama, Prosecco Rose

$13

Citizen Sangria

Ketel One Orange, Amaro Nonino, Chateauneuf-du-Pape, Citizen Cider, Apple Cider

$13
Draft
Three Floyd's

Zombie Dust APA

$9

Maine

Lunch IPA (13oz)

$11

Smuttynose

Old Brown Dog

$8

Idle Hands

Four Seam NE IPA

$8

Jack's Abby

House Lager

$7

Von Trappe

Bohemian Pilsner

$7

Fiddlehead Brewing Company

Fiddlehead IPA

$8

Hermit Thrush

Party Jam Strawberry

$12

Guinness

Irish Stout

$7.50

Downeast

Unfiltered Cider

$7
Bottles & Cans
Miller High Life

$5

Narragansett

$5

Clausthaler N/A

$4
Sparkling
Louis Roederer Brut Premier Champagne

115/bottle

Collet Champagne Rose

92/bottle

Ca' del Bosco Franciacorta Extra Brut Prestige

82/bottle

Scharffenberger Brut Excellence

48/bottle

Pasqua 'Romeo & Juliet' Brut Rose Prosecco

12/glass, 46/bottle

Mercat Cava Brut

11/glass
Rose
Ca Maiol 'Chiaretto del Garda'

12/glass, 46/glass

Villa des Anges 'Old Vines'

10/glass, 38/bottle
White
Ramey Fort Ross-Seaview Chardonnay

21/glass, 82/bottle

Hourglass Sauvignon Blanc

65/bottle

Pieropan Soave 'calvarino'

64/bottle

Domaines Schlumberger 'les Princes Abbes' Gewurtzraminer

62/bottle

Truchard Vineyards Roussane

49/bottle

Poggio Al Tesoro 'solosole' Vermentino

48/bottle

San Salvatore Falaghina

46/bottle

Vionta Albarino

42/bottle

Vina Cobos by Paul Hobbs 'Felino' Chardonnay

12/glass

Te Pa 'Koha' Sauvignon Blanc

12/glass

Andrian Pinot Grigio

12/glass

Dr. Konstantin Frank Dry Riesling

12/glass
Red
Robert Foley 'griffin' Petite Syrah Blend

180/magnum

Ca' Viola Barolo

23/glass, 90/bottle

Hess 'lion Tamer' Red Blend

88/bottle

Daou 'reserve' Cabernet Sauvignon

78/bottle

Tornatore Etna Rosso 'pietrarizzo'

76/bottle

Domaine Du Vieux Lazaret Chateauneuf-De-Pape

72/bottle

Marques De Murrieta Reserva Rioja

64/bottle

Truchard Vineyards Syrah

59/bottle

Maison L'envoye 'two Messengers' Pinot Noir

58/bottle

Domaine Montirius Gigondas

54/bottle

Requiem Cabernet Sauvignon

13/glass

Leeuwin Estate 'siblings' Shiraz

13/glass

Chateau Pegau Cotes Du Rhone 'maclura'

12/glass

Sokol Bloosser 'evolution' Pinot Noir

12/glass